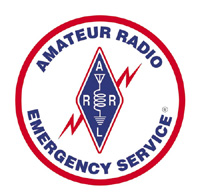 Scotland County Ares
Meetings are the second and fourth Mondays of each month at the SCATS building behind the EMS headquarters on West Blvd. in Laurinburg, NC
Rag chew session every Thursday at 7:00 p.m. on the Laurinburg repeater, 146.625+.
Repeater frequency 146.625+. Simplex frequency 146.595.
Some things to keep you informed:
The ARRL Letter - Keep up with the latest news from the ARRL.

ARRL Bulletins - Daily (or nearly so) updates. There is an e-mail sign-up link on this page.
Happenings at SCARES:
9 March 2009 - We tweaked Julian's J-Pole and lengthened the top section a bit. The SWR was still about 2 on the 2 meter band, but we took it out and managed to hit the repeaters in Lumberton and Dillon with K-Hill's radio on low power, so we counted it a success. Julian still needs to try it on 440 MHz. Here are a couple of pictures:
---
14 January 2009 - Replaced feed line for HF dipole at EOC. Tested and made contacts with good signal reports from KB4HG in Sanford. Started construction of multiband trapped dipole. Julian and K'Hill went back that afternoon and dressed the coax. We still need to take down the old RG-6 coax.
Antenna and feed line maintenance on 31 January 2009.
Useful Links